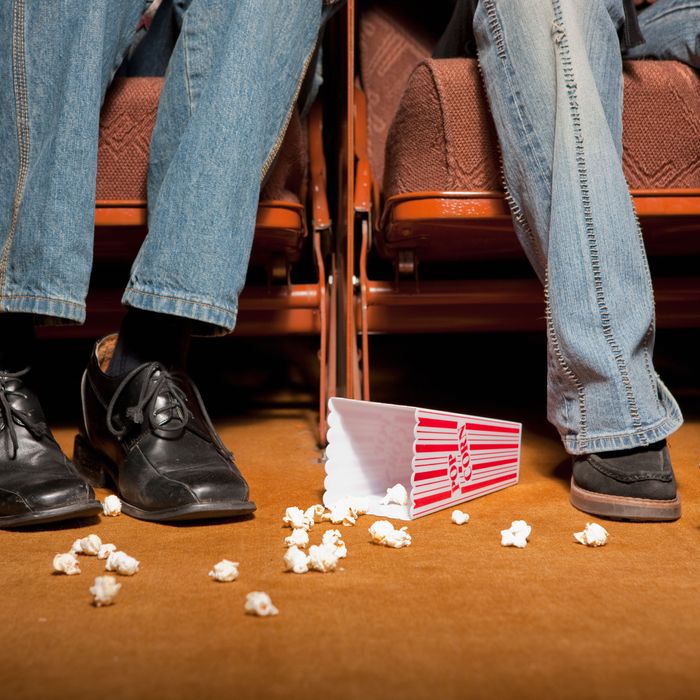 Photo: Dan Bannister/Getty Images/Tetra images RF
Is there anything better than curling up under a blanket with your loved one and watching a romantic movie? I can think of only one thing. Curling up under a blanket with your loved one and watching multiple romantic movies — on Valentine's Day! A whole romantic movie film festival on the most romantic day of the year. Ah, the perfect date.
But there are so many great romantic movies, how could you possibly choose which to screen? Casablanca, Love & Basketball, Titanic, When Harry Met Sally … ugh, I'm sure your head is spinning at the mere idea of attempting to decide. Luckily we've thought deeply about it, polled our many sources, and constructed the perfect, foolproof romantic Valentine's Day film festival, just for you and your sweetie. Now all you have to do is pour the Champagne and press play.
1. Set the Scene With: Before Sunrise (1995)
That first look, that first night — the thrill of possibility. Of course, the perfect movie to start your Valentine's Day film festival is Richard Linklater's 1995 masterpiece Before Sunrise. Taking place over the course of a single night, the movie follows a young Ethan Hawke and Julie Delpy as Jesse and Céline, two traveling strangers ambling around Vienna, Austria, talking about everything and nothing, and falling in love. When the pair parts ways, you and your partner can debate whether they'll keep their date in six months, or never see each other again. A delightful conversation topic that will make you feel just like Jesse and Céline.
2. Amp Things Up With: Before Sunset (2004)
Ah, I can't think of a better film to take the No. 2 slot in your Valentine's Day film festival than Richard Linklater's 2004 masterpiece Before Sunset. Perfection! Taking place over the course of an afternoon, the movie follows an early 30s Ethan Hawke and Julie Delpy as Jesse and Céline, two would-be lovers ambling around Paris, France, nine years after a chance first meeting in Vienna, Austria. Céline lives in Paris, and Jesse is visiting as part of a book tour celebrating the release of his first novel. She tracks him down when she hears he'll be giving a reading at the famous bookstore Shakespeare and Company, but the reunited pair only has an hour together before Jesse must get to the airport. You and your lover will wonder aloud, baby, did he miss that plane? But oh — you'll know.
3. Slow Things Down With: Before Midnight (2013)
This film festival selection was the subject of a lot of debate, but ultimately we decided the best fit for the third slot in our Valentine's Day romantic film festival was Richard Linklater's 2013 masterpiece Before Midnight. Taking place over the course of a day, the movie follows early 40s Ethan Hawke and Julie Delpy as Jesse and Céline, a married couple on vacation in southern Greece, nine years after rekindling their love in Paris, France. You and your sweetie will wonder, can love endure once removed from first-blush excitement? Do we all take each other for granted eventually? Will Céline agree to move to Chicago so Jesse can be closer to his teenage son from his first marriage, Hank?!
4. Conclude With: The Shining (1980)
青青青国产在观免费2018Ah, the perfect closer to a wonderful night of film!